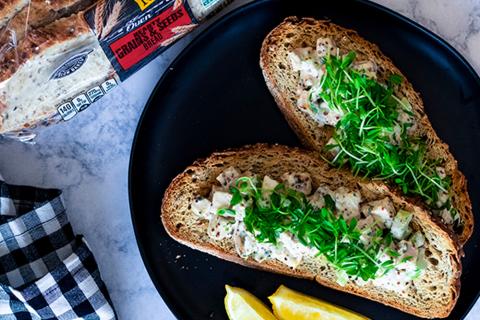 ingredients
1 pound cooked chicken
1 c chopped celery
¼ finely chopped onion
½ c mayonnaise
2 tsp whole grain mustard
1 tablespoons fresh tarragon leaves, chopped, more to taste
Salt and pepper to taste
Sprouts or micro greens
2 slices Hearty Grains & Seeds from The Rustik Oven, toasted
directions
Cut or shred chicken into bite-sized pieces and place in a medium bowl.
Add the rest of the ingredients and mix, incorporating all.
Add salt and pepper to taste.
Toast bread slices under a broiler preset to high until golden brown.
Serve over toasted bread with lettuce and micro greens.