Donal Skehan's Pain Perdu with Vanilla Ricotta and Speedy Berry Compote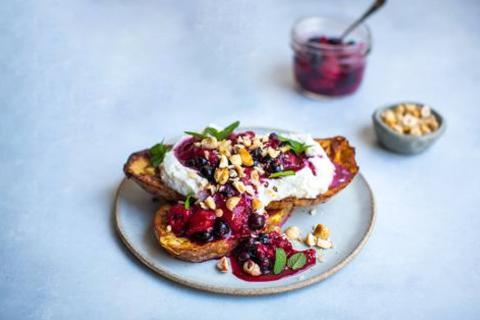 ingredients
4 slices Pane Italiano from The Rustik Oven
1 cup strawberries, halved if large
2 tbsp powdered sugar
½ cup blueberries
Juice of half an orange
½ cup raspberries
2 eggs
1/4 cup milk
1 tsp vanilla extract
1 tbsp sunflower oil
Pad of butter
1/2 cup ricotta
1/2 tsp vanilla bean pasta
2 tbsp powdered sugar
1/8 cup roasted hazelnuts, roughly chopped
Small handful mint leaves
directions
Place the strawberries and sugar in a small saucepan over a medium heat. Toss to evenly coat the fruit with the sugar, bring to the boil, once bubbles start to appear on the sides of the pan add the blueberries and orange juice and stir through. Simmer for 2-3 minutes until the berries have softened but not lost their shape, stir through the raspberries.
In a large shallow dish, whisk together the eggs, milk and vanilla. Soak the bread in the mixture for 30 seconds each side. Heat a large pan with the oil over a medium heat and add the butter, place two pieces of the soaked bread in the pan at a time and cook for 3 minutes on each side until golden, repeat with remaining slices of bread.
In a small bowl, mix together the ricotta, vanilla and powdered sugar. When the French toast is cooked. Stack it on a plate, top with some ricotta, berries and sprinkle with the toasted hazelnuts and fresh mint leaves.