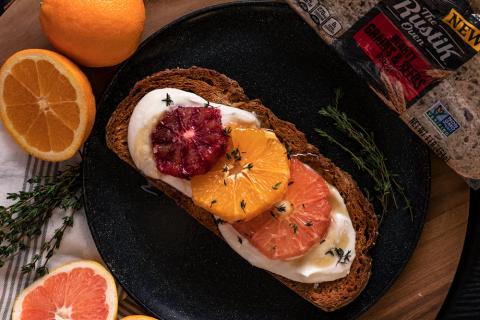 ingredients
1 1/2 c part skim ricotta cheese
5 tbsp wild honey
2 tbsp fresh thyme, chopped
1 grapefruit
1 blood orange
1 orange
4 slices Hearty Grains & Seeds from The Rustik Oven, toasted
directions
Preheat broiler to high and place the bread slices on a baking sheet. Toast bread until golden and set aside.
In a small bowl, mix ricotta with 1 Tbsb of honey until smooth.
Peel the oranges and grapefruit, being careful to remove all bits of peel from the fruit. Cut into 1-inch slices.
Spread the ricotta mixture across the toasted slices of bread and top with one slice of orange, blood orange and grapefruit.
Drizzle each toast with 1 Tbsb of honey and sprinkle with fresh thyme. Enjoy!